Happy B Corp Month! To celebrate, we wanted to explore what this certification means, why it is important and how you and your business can get involved.
The fundamentals
What is a B Corp?
B Corps are businesses which have chosen to look beyond just profit. Instead, they consider the wider stakeholders, employees, environment and communities that they impact. They look to long-term goals and how businesses can play a positive role in bringing these about.
In B Lab's words, the organisation which created and awards B Corp certification: "Certified B Corporations are companies verified by B Lab to meet high standards of social and environmental performance, transparency and accountability."
There's no one specific type of B Corp – they come in all shapes and sizes and across many industries.
You can spot a B Corp by the certification logo. Just like a FairTrade logo, the certification can be displayed on websites, packaging and materials. Displaying this logo indicates a company meets high ethical and environmental standards.
How many B Corps are there?

There are currently more than 1,100 B Corps in the UK across 58 industries with over 55,000 employees.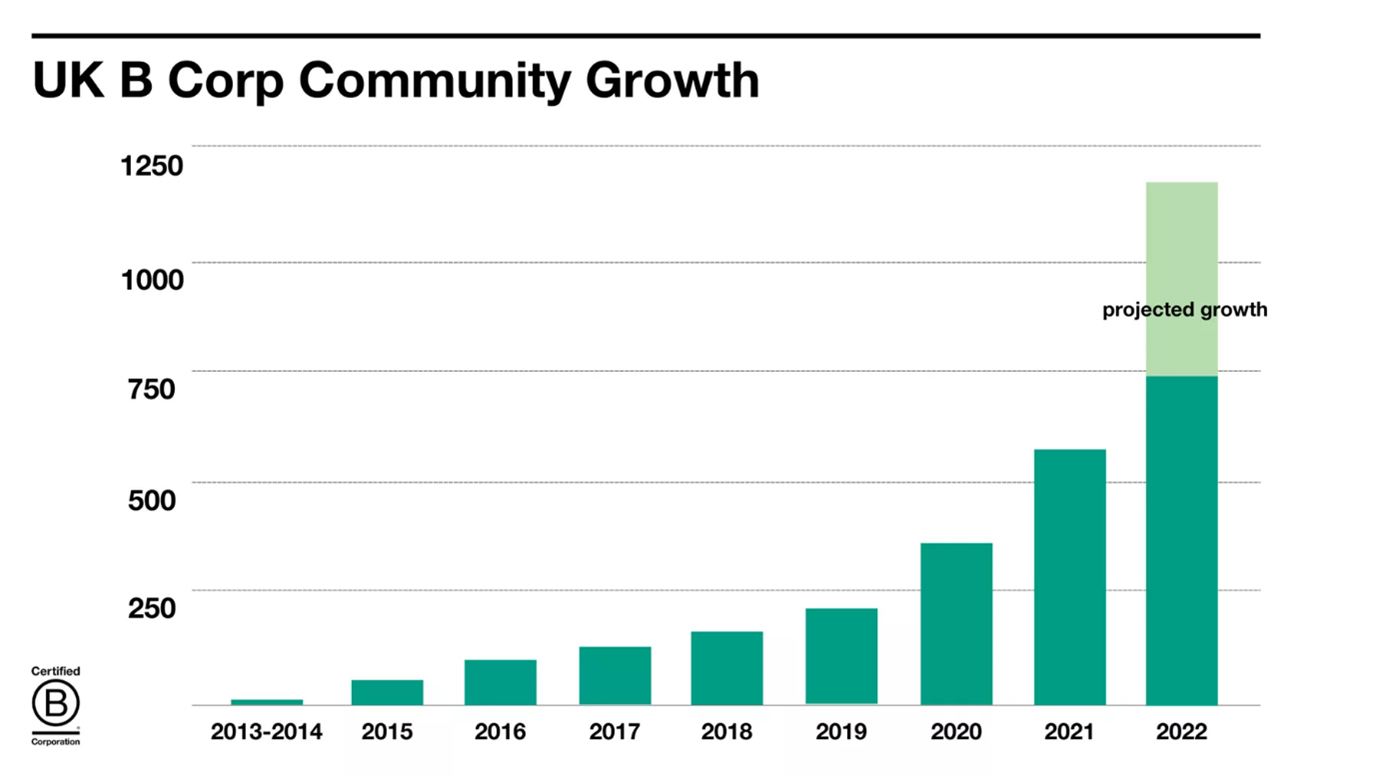 Globally, there are over 6,000 B Corps across 89 countries and 159 industries. You can find a list of all these companies in the global directory. And the movement is only growing.
What is B Corp month?
It's the time to celebrate everything B Corp! Every March, B Lab, Sistema B and the global B Corp community join together to spread the word, educate different audiences and create a vision of a brighter future for businesses. Throughout the month, there are a range of events, to help you connect, be inspired and learn.
The bigger questions
Why do we need B Corps?
The planet is at a crisis point and the challenges we are facing cannot be solved by governments and charities alone. B Corp businesses are purpose-driven and strive to create benefit for all stakeholders. B Labs believes we need this drive for change and hopes that businesses can shift their default to aspire to do no harm and benefit all. Businesses can have an outsized negative impact if they do not consider how their actions influence the wider environment and need to recognise our mutual dependencies.
Being a B Corp can also have great benefits for the businesses themselves. For example, B Corp status can attract and engage talent and boost employee wellbeing, as well as attracting investors and making it easier to articulate the business mission externally. It also improves your business's impact on people, planet, employees and communities through collaboration, networking and valuable input from the certification process.
How can you help celebrate B Corp month?
There are lots of ways you and your business can support B Corps this month. One important way is by raising awareness. This can be as simple as sharing a post on social media or talking to your colleagues. And there are many talks and events organised by B Lab throughout the month to attend. You can also use your spending power to support B Corps, by searching in the directory and supporting these companies. You could also look into the process yourself.
A conversation with our founders
Choosing to become a B Corp is a significant decision determining the direction of your business. At Forestreet, we're proud to be B Corp certified. This means that we have gone through the rigorous application process and committed to always meet high standards of social and environmental performance, accountability, and transparency. We spoke to our founders about why they decided to become certified.
"When starting a new business, founders have to make important choices as to how they will build a successful company and a winning team" said Forestreet Founder and CEO Alex Miller. "B Corp provided the foundations of the culture we wanted – ethical, inclusive, and motivated to grow in a responsible and sustainable way."
B Corp provided the foundations of the culture we wanted – ethical, inclusive, and motivated to grow in a responsible and sustainable way.
Alex Miller continues, advising that the decision to become a B Corp cannot be thought about in isolation. Instead, it must impact all parts of a business. "By adopting this status, we made it part of our constitution to think about impacts beyond just the financial. This gave us a framework to consider our wider purpose and has helped us attract an amazing team and fantastic clients."
To find out more, take a look at B Lab's website here. And to learn more about Forestreet and our team, book a demo today.